Join us for the following events to connect with the local home staging community, and gain insights to improve your business.
No matter what business you're in, every entrepreneur is faced with the same challenges (money, time, staff…money!) and the same goals (make a great living, enjoy work and life, do good work and help other people, build something bigger than us).  In our 16 years in business, we've met with hundreds of entrepreneurs and have felt the commonality of experience.  
In this session, we'll take a look at the big questions we get asked and our best advice for each.  We'll also take any questions you have and do our best to guide you towards your goals.  So bring us what you've got – we can talk about sales and marketing, growing your teams, how to create systems for growth and whatever else you've got.  We can't wait to get into it with you!
Join us Thurs. Oct. 25th at 10:00am at Lux Furniture Rentals.
Coffee and tea will be served and it's a great opportunity to network with likeminded business owners.
Space is limited! Please email info@luxfurniturerentals.com.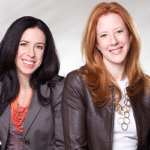 Amy Ballon and Danielle Botterell
Guest Speaker
Amy Ballon and Danielle Botterell are strategic advisors who work with entrepreneurs to create and capitalize on opportunities for growth. They are the co-founders of Spark Consulting and consultants for the Business Development Bank where they consult to small businesses across Canada. Their expertise in business is a result of their corporate backgrounds, MBAs from the Rotman School of Management, University of Toronto, and from the real life experience, over 10 years, of having started, grown and sold a business of their own. Their areas of expertise include the creation and execution of strategic plans, marketing, and staff development and management. They are published authors on the subject of entrepreneurship. Amy and Danielle are passionate about the success of small business in Canada. Their views on this subject have been featured in national print media, radio and television. They speaks on the topic of entrepreneurship at women's conferences, the Rotman School of Management, George Brown College, and the Toronto Public Library.
Use The Lux Studio for a home staging event you can be proud of.