Join us for the following events to connect with the local home staging community, and gain insights to improve your business.
Attract More Dream Clients!
If you are a service business, you might be focused on one thing . . getting more clients! It's something so many businesses struggle with, especially in the early days. It often feels like such a grind, and it can be tough to put ourselves out there again and again, especially when we're not sure we are getting the results we want.
I get it, because I've been there! I had low rates, less than stellar clients, an erratic schedule . . . I felt like I was running all over town trying anything to get new leads and it was exhausting!
But now I have a proven marketing system that I use to attract the right kind of clients into my world, so I can connect with them and convert them into paying clients. I call it The Dream Client Formula!
In my brand new live workshop, I will give you step-by-step solutions to help you define, speak to and attract more clients. Not just any clients but your DREAM clients. The kind that truly value what you do, that pay on time, that send you business again and again. Yes, these Dream Clients do exist! They're out there and they're waiting for you to serve them. But first you gotta know how reach them.
In this workshop you will learn…
The 3 keys to consistently attracting amazing, raving-fan clients
How to understand your Dream Client so you can make a genuine connection with them
How to create irresistible content your dream clients are craving
How to create more 'flow' in your business by implementing proven marketing systems
How to get off the entrepreneurial rollercoaster for good, so you never have to worry where the next client is coming from
I invite you to join me on Thursday April 4th at Lux Furniture Rental in North York.
Space is Limited.
Visit link to register.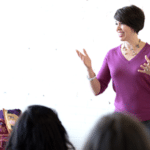 Lianne Kim
Guest Speaker
Lianne Kim is a renown Business Coach and an award winning public speaker. She has 20 years experience in sales and marketing and runs a network of over 240 small business owners in Toronto. She specializes in helping small businesses grow their sales by implementing simple yet effective systems and practices.
Use The Lux Studio for a home staging event you can be proud of.